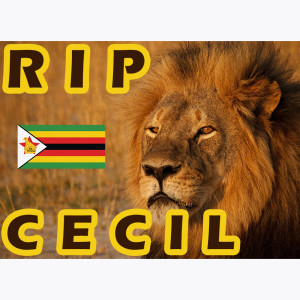 Rest in Peace (RIP) Cecil – Lion Killed in Zimbabwe
WHY DID The Hunter 4 Walter Palmer Get Bail???
The professional hunter who assisted Walter Palmer in killing Cecil the lion has been granted bail by a judge in Zimbabwe
Theo Bronkhorst, the Zimbabwean founder of Bushman Safari, was charged with conducting an illegal hunt, but was not asked to plead.
Magistrate Lindiwe Maphosa granted him $1000 bail (like only??) and ordered him to report to police in second city of Bulawayo on Mondays, Wednesdays and Fridays and to surrender his passport.
Namatirai Ngwasha, the prosecutor, did not oppose his bail.
Cecil, who was shot dead on July 1, was a protected lion from the Hwange national park and should therefore not have been killed.